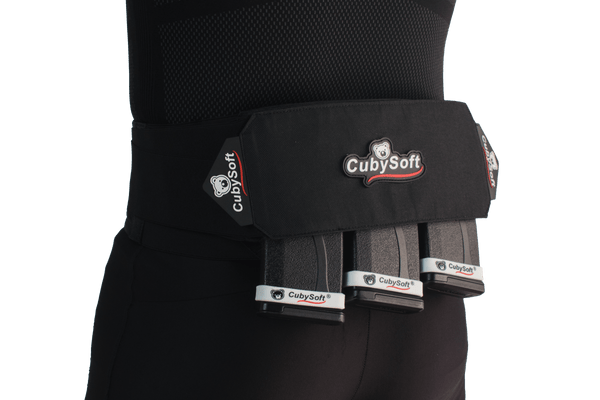 FREE
SHIPPING
100% MONEY
BACK GUARANTEE
ONLINE
SUPPORT 24/7
Availability:
Out Of Stock
XPERT HARNESS
XPERT HARNESS: Make history with the new Cubysoft belt
Get ready to discover a belt that redefines elegance without sacrificing your carrying capacity or precision. Xpert Harness has arrived to break all the norms.
It is the result of years of research and development by Cubysoft. It is an innovative, comfortable, and powerful belt that allows you to take your game to unforeseen levels. What does it include?
1. BASE OF THE BELT:
Minimalist design with position guides. Available in S/M and L/XL.
The elastic adjuster band also has its own size. You can purchase both the base and the elastic adjuster in your size for greater comfort.
Elegance at its finest: With its minimalist and sophisticated design, the Xpert Harness becomes a statement of style itself. Its sleek aesthetics perfectly adapt to your figure, minimizing your profile and allowing you to go unnoticed by your opponents.
2. PADDING
Ultra-fast magazine extraction with interchangeable padding: One of the great innovations of the Xpert Harness is its interchangeable padding, which allows you to slide your hand like lightning and remove the magazines without obstacles. No more uncomfortable moments where your backside gets in the way!
Adapts to your playing style. Thanks to the interchangeable padding you can choose to move your mags further apart for faster and more efficient removal or have them closer together to define an even tighter fit, depending on your playing needs.
Close-fitting magazines offering a smaller silhouette.
QuickMag Ramp: inclined magazine for faster and more efficient extraction.
Rapid magazine change: Thanks to its innovative fastening system, changing your magazines has never been so quick and efficient. Forget about cumbersome traditional systems, with the Xpert Harness, you can replace your magazines in a matter of seconds, allowing you to get back to the game without losing a valuable moment.
3. AR X5 POUCH
Double pouch height for greater versatility: The magazine holder of the Xpert Harness allows you to place two layers of magazines, doubling your capacity. Adapt the belt to your playing style and carry all the accessories you need.
Also available from SMG X6.
4.ELASTIC ADJUSTER
Secure the magazines and strap the belt to your body.
Customized fit for absolute comfort: We recognize that every player is unique, which is why the Xpert Harness adapts to you like a second skin. With its ergonomic design and customizable fit, you can enjoy unparalleled comfort and unmatched security. Whether you prefer a tighter or looser fit, this belt will adjust to your individual needs.
Elastics of different hardnesses to assist in the removal of magazines.
5. QUICKRELEASE
Interchangeable panel to modify the configuration according to your needs.
V-FLOAT MAG: Invisible pouch with suspended magazine effect.
Power and versatility in a single belt
Don't be fooled by its subtle appearance, the Xpert Harness harbors impressive potential. With optimal carrying capacity and balanced weight distribution, this belt allows you to move with agility and speed, without compromising the amount of equipment you can carry with you.
Xpert Harness: The essential choice for those who demand peak performance without compromise. Get ready for lightning-fast movements!
Only the fastest will have the opportunity to secure their Xpert Harness. Are you one of them?
CubySoft® Xpert Harness includes:
Base of the belt, size M or L

Dual Tension Elastic Band, size M or L
Thunder Mag Pouch AR X5 or SMG X6
Padding: Low Profile, High Profile or both
QuickRelease for XPH PVC Logo
The delivery of orders in Peninsula will be made by MRW transport agency. The delivery of orders in the Balearic Islands, Canary Islands, Ceuta and Melilla will be made by UPS. Shipping costs are 7,95€ (Peninsula and Balearic Islands. Spain) (*Portugal 11,95€). Free shipping: if your order exceeds 100€ International shipping costs may vary between 17,95€ - 39,95€ depending on country. (Canary Islands, Ceuta and Melilla included). Free shipping: if your order exceeds 280€ Customs costs will be borne by the buyer. All shipments will be made within a maximum period of 2 working days (excluding weekends and holidays), once the payment has been confirmed and paid (in case of transfer or deposit into a bank account). This delivery period is only for the Peninsula; For shipments to the Balearic Islands, the Canary Islands, Ceuta and Melilla, as well as international shipments to European Union countries, the delivery time may take up to 10 more days. - National shipments: Once sent by UPS transport agency the package will arrive in 24 / 48h working hours. Shipments are notified by email. (Spain) - International shipments: Once sent by UPS transport agency the package will arrive between 2 - 7 working days. Shipments are notified by email. (International, Canary Islands, Ceuta and Melilla) CubySoft admits that our customers withdraw or send the merchandise with their own transport company. For any incident with the transport agency, please contact us to solve it as soon as possible (delays or erroneous addresses). If delivery is desired at a specific time, specify it in order comments. Shipping costs include handling and packaging costs. We advise you to group all your articles in one order. We cannot combine two different orders, and the shipping costs will be applied for each one individually. We are not responsible for the damages that your package may suffer after shipment, but we do our best to protect all fragile items. The boxes are large and your items will be well protected. The products that are purchased through a reservation (Pre-Order) will be sent the day described in the product.