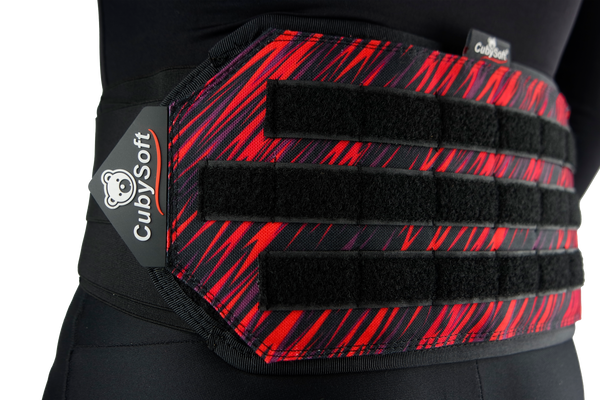 FREE
SHIPPING
100% MONEY
BACK GUARANTEE
ONLINE
SUPPORT 24/7
Availability:
Out Of Stock


CubySoft® PRO HARNESS
Cubysoft Pro Harness (PH)- the ultimate gear for all your Speedsoft tournaments! This innovative belt is designed to provide maximum comfort, durability and functionality while you compete in the field.
Why this PRO HARNESS is perfect for you:
Adjustable and elastic padded straps for a custom fit
Multiple molle webbing for attaching holsters, pouches, and other gear
Durable construction with high-quality materials
QuickRelease buckle for easy on and off
Lightweight design for optimal mobility
Suitable for different types of body sizes and shapes
Enhances the overall gameplay experience 


The perfect Tactical Gear for the most Competitive SpeedSoft players
Experience the ultimate in tactical equipment with the Cubysoft Pro Harness. Its lightweight design allows for free and agile movement on the field, giving you an advantage over your opponents.
The adjustable, padded straps provide a comfortable and secure fit, while the molle webbing allows you to customize your setup with patches, stickers, and other accessories, meaning no player will be the same.
The QuickRelease buckle makes it easy to put on and take off, while the durable construction and high-quality materials ensure it can withstand the rigors of the battlefield.
In short, the Cubysoft Pro Harness makes you feel prepared for any challenge and increases your confidence and security on the playing field.
CubySoft® PRO HARNESS includes:
CubySoft® PRO HARNESS Base Belt (x1)
thick padding and closure with velcro for better comfort
velcro female for grip with Molle
neoprene surface for excellent grip
elastic straps that adjusts waist size
PH QUICKRELEASE™ (x1)
polyester reinforced layer
velcro male in the rear area that sticks with BASE BELT
reinforced seams
rubberized touch handle with printed logo for quick removal
nylon molle with velcro (

4mm width)
PRO HARNESS CUSTOM BAG (x1)
PRO HARNESS STICKER (x1)
MADE IN:
100% polyester
Velcro Fabric and Plastic
Neoprene
Nylon
Designed in Elche, Spain. Made in Spain.
Do not wash, spot clean only.
More info:
All gear items are handmade with manual machinery, not with an automatic industrial machine. You can find seams that are not aligned, but the thread quality is superior.
The colour tone shown may be different depending on the lighting when the picture was taken and the quality or your screen.
The delivery of orders in Peninsula will be made by MRW transport agency. The delivery of orders in the Balearic Islands, Canary Islands, Ceuta and Melilla will be made by UPS. Shipping costs are 7,95€ (Peninsula and Balearic Islands. Spain) (*Portugal 11,95€). Free shipping: if your order exceeds 100€ International shipping costs may vary between 17,95€ - 39,95€ depending on country. (Canary Islands, Ceuta and Melilla included). Free shipping: if your order exceeds 280€ Customs costs will be borne by the buyer. All shipments will be made within a maximum period of 2 working days (excluding weekends and holidays), once the payment has been confirmed and paid (in case of transfer or deposit into a bank account). This delivery period is only for the Peninsula; For shipments to the Balearic Islands, the Canary Islands, Ceuta and Melilla, as well as international shipments to European Union countries, the delivery time may take up to 10 more days. - National shipments: Once sent by UPS transport agency the package will arrive in 24 / 48h working hours. Shipments are notified by email. (Spain) - International shipments: Once sent by UPS transport agency the package will arrive between 2 - 7 working days. Shipments are notified by email. (International, Canary Islands, Ceuta and Melilla) CubySoft admits that our customers withdraw or send the merchandise with their own transport company. For any incident with the transport agency, please contact us to solve it as soon as possible (delays or erroneous addresses). If delivery is desired at a specific time, specify it in order comments. Shipping costs include handling and packaging costs. We advise you to group all your articles in one order. We cannot combine two different orders, and the shipping costs will be applied for each one individually. We are not responsible for the damages that your package may suffer after shipment, but we do our best to protect all fragile items. The boxes are large and your items will be well protected. The products that are purchased through a reservation (Pre-Order) will be sent the day described in the product.